Porsche 911 Carrera 4S Cabriolet 2019 UK review
Moving on. Mounted to the engine is Porsche's eight-speed dual-clutch PDK gearbox, which can be either left unattended or operated with a pair of slim metal paddle shifters mounted to the steering wheel. A seven-speed manual will come in due course. Meanwhile, electronically controlled adaptive dampers are standard issue.
Our test car is also fitted with a sports exhaust, the Sport Chrono package (which includes the little mode-swapping rotary dial between the steering wheel's spokes), Active Suspension Management (for a 10mm drop in ride height) and matrix LED headlights, all of which help to take the cost to £120,998. Opting for four-wheel steering, active anti-roll bars and carbon-ceramic brakes would push the price higher still.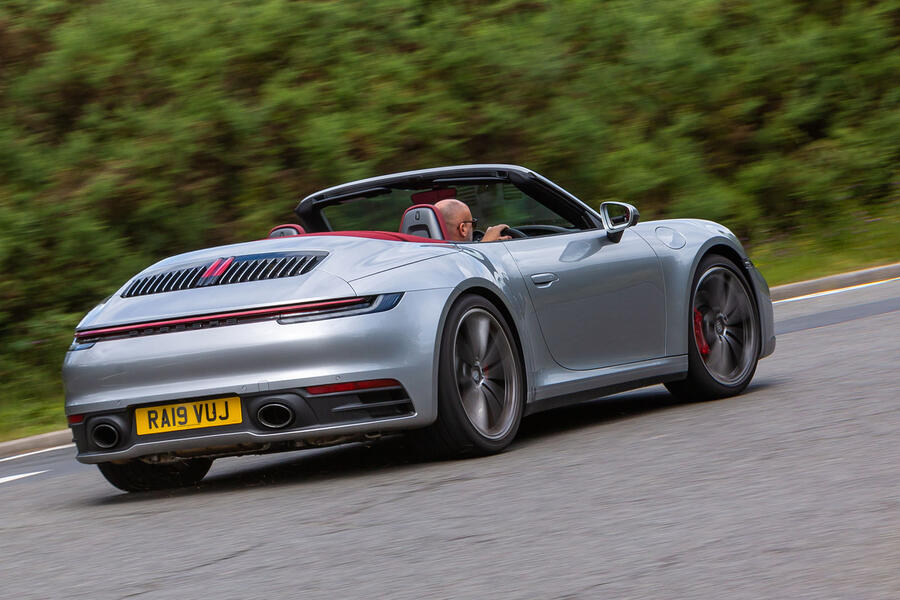 What's it like?
So what do you sacrifice by opting for the canvas-roofed cabriolet? 
Aesthetically speaking, less than ever. The awkwardness of drop-top 911s seemed to peak with the post-millennium 996-gen and 977-gen models, whose hunchback silhouettes were never pretty. Thanks to its broad roof panels (think of an armadillo), the new car's form is almost indistinguishable from the coupé's and the rear screen is both large and made of glass.
Naturally, you lose a little rigidity, and along with the hydraulic roof mechanism, the additional bracing required means you gain around 70kg compared with the coupé. At 1635kg, you might argue that a PDK-equipped convertible 4S is heavier than any 911 has a right to be and we'd agree. You also lose the ability to hit 190mph, although we'd wager travelling flat out at 188mph with wind hurtling around the cabin offers a greater thrill. Indeed, the cabriolet will hit that top speed whether you have the roof up or down. 
Putting it down takes almost no time at all: 15sec, via a rocker switch on the centre console, and at vehicle speeds of up to 30mph. Neatly, you can also raise the rear wind-stop electronically, and with it in place, the cabin is largely free from buffeting, even at motorway speeds, and you needn't raise your voice to hold a conversation. In the world of the convertible 911 buyer, that will count for quite a lot. 
This being a rear-engined car, when stowed away, the roof doesn't eat away at luggage space, although the tin-top 911 has less on offer than a Ferrari Portofino or Aston Martin Vantage at the outset. However, between the rear seats and the deep recess beneath the aluminium bonnet, you should manage to get easily enough packed in for the oft-cited 'weekend away'. 
Practicalities aside, the 4S cab is phenomenally capable. Not so much does it shrink the customary dynamic disparity between open- and fixed-roof 911s as slam it shut to an almost watertight degree.